Having had a good experience with automatic writing a couple of months ago in Lois' Psychic Development class, when she instructed us to channel Gaia, I decided that in order to practice my Drawing Down the Moon, and the practical skill of automatic writing, I would do it once a month through 2011, and post the results on this blog.  I chose the time of the crescent moon, Diana's Bow, to do it because while still a magickal time and a time sacred to the Goddess, it would not interfere with any Full Moon gatherings I might want to attend.  I chose the Goddesses that I would Draw Down during the year according to what felt right per each month, and set out to do it.  Last night was my first intended date but I didn't get to it until this morning, while I was sitting alone at the shop during a quiet period.
For January, with Imbolc approaching, I chose to call upon Brighid.  I am part of a sisterhood of Flamekeepers who honour Her by burning a sacred flame for 24 hours every 19 days, so I already work with Her and She is a comfortable presence to me.  The neat thing about Her is that She transcends faiths and beliefs with a grace that I think is unsurpassed by any other Goddess.  To the Celts, She was one of the Tuatha de Danaan "Children of Dana,' a faerie goddess,) the Goddess of the flame, the hearth, blacksmithing and "fire in the head" (bardic inspiration); the loss of Her son was the world's first song of grief ("keening,") and drawing Her mantle over the world brought peace and healing to all.  In this similar guise, She was also Bride and Brigantia elsewhere in the British Isles.  To the Catholic Irish, She became St. Brighid "Mary of the Gael," who was midwife to Christ.  She was a holy virgin who gave everything she and her father owned away to the needy and the poor, who always had food for the hungry, who caused cows to never dry of their milk and sheep to never run out of wool, and her mantle healed the sick and the wounded.  Interestingly, She also made it into the loa of Voodoo.  In that guise, She is the wife of Baron Samedi, who is the spirit of death, but who also loves "life" (He drinks, smokes, eats and parties it up with a seemlngly insatiable appetite and a legendary sense of humour.)  Brighid there intercedes on behalf of humanity, asking Her husband to spare people His dread gaze.  To modern Witches, She is a Triple Goddess, symbolized by both Fire and Water, Cauldron and Well; the Womb and the Tomb.
My channelled message mentions some of that, and my distinct impression while Drawing Her Down (which I have never done before, though I have worked with Her many times) is that She does not care what name or guise you prefer; that Her compassion is limitless and that all She really wants to do is relieve suffering, in whatever life-affirming way She can.  You will see some of that in Her message, and I think that some of all of Her various aspects came through!  At times She is a demure Maiden healer, at times a nurturing and protective Mother, at times a fiesty Warrior, and at times a wise and stubborn, sarcastic Crone!  Here is what She wanted to say: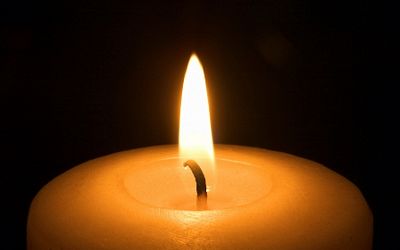 I am the Bride of the World; she who carries the light into the darkness. call to me when you have need to be healed, and I will answer. Listen to your inner voice and speak the words of prophecy, of Awen; I am that flame also. I am the Maiden, the Mother and Crone; to the Christians, I am the Midwife of Christ, "Mary of the Gael;" to the voodoun, I am the Bride of Death.
I am with you all the days of your life; I bear and share your pain.  I will hold your hand when you weep and scream whether you want Me to or not! My love is for all, and through this I teach you to open your hearts and carry a flame for your sisters and brothers.
I am the voice of the underdog, she who speaks for those for whom none speak.  I love and all should love. 
I ask you now to reach out with your love and compassion. Is there someone you know is struggling? I would give the very breath of life to all who have need.
In this time of apathy and dispair, I urge you not to forget that even in the deepest dark, the light will shine. Be that light to others! Love is the only thing, you say, that is increased by the sharing. If you harden you heart, you will never know this fulfillment.
Commit a random act of kindness!  Hold a crying baby. Share the warmth of your hearth, the food of your larder, the healing of your compassionate hands. Be a gift of gentleness and understanding in the world.
I will mourn your losses; give them to me, do not bear them on your shoulders. I will hold your head up when you lack the strength; just ask me to intervene. Let my flame be the light of hope to all who would have need of it; let my fires burn iin the heart and the head.
Do not neglect the fire of your own spirit which cries out for expression and purchase! Give it room to breathe, to grow! Do not stifle your Will and your creativity by the expectations of others, dreary schedules, or fear. Let the light wihin you shine forth!
Feed the hungry, clothe the naked, fight for those who suffer. And let my cauldron of transformation take your cares and make them gifts; let me transmute your fear to strength, your dispair to compassion, your anger to courage, your grief to wisdom. Know that I am within you and with you, always, and my love and heart have no limits - nor does yours.
Blessed be, God bless you, aiay!
PS - I work with Brighid when I do Reiki; She's one of my Reiki guides.  She asked me to send you Reiki to go with this message, so I (we) send healing to you all with this symbol.
Next month: Kwan Yin, Boddhisatva/Goddess of Compassion.
Blessed be,